Doing Business
Your central Florida business destination.
Businesses ranging from international distribution companies to entrepreneurial start-ups find Lake County to be an advantageous location due to a workforce that can choose from a wide range of small-town communities but enjoy the benefits of being located within two major growing MSAs – Orlando and Ocala.

MCO » Orlando International
SFB » Sanford International
DAB » Daytona Beach International
TPA » Tampa International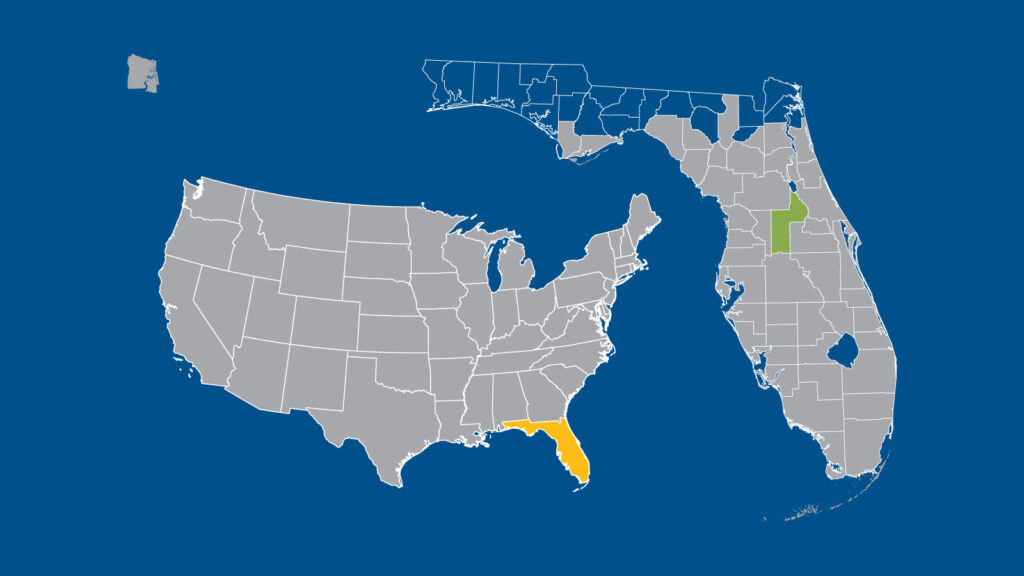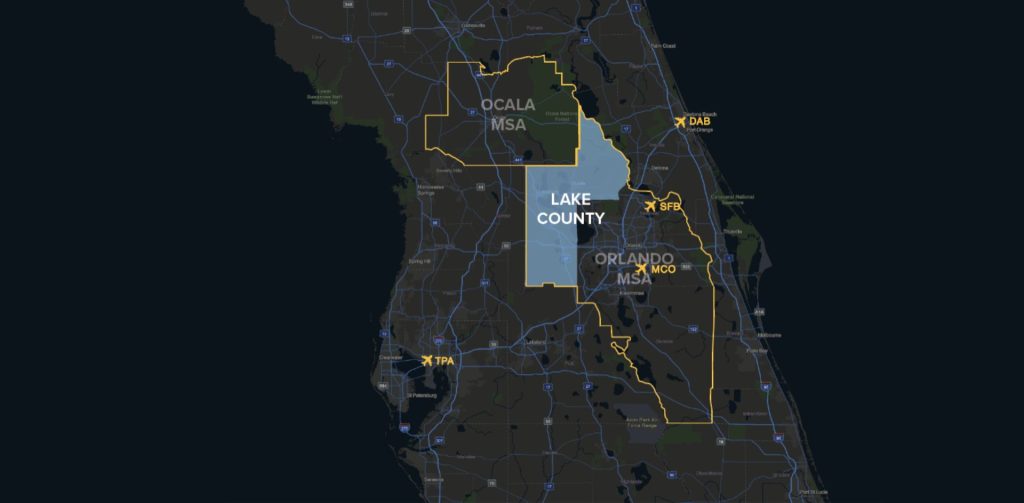 Our website is currently under development but below gives you a snapshot of how we can help your business grow. Take a look and reach out to us to learn more.
Lake County is strategically located in the heart of Central Florida, just northwest of Orlando. The region boasts easy access to major transportation networks, including several major highways such as the Florida Turnpike and U.S. Route 441 – reaching more than 50 million people in a 500 mile radius1. Additionally, several international airports are nearby such as Orlando International (45 minutes away), Sanford International (1 hour away), Daytona Beach International (1 hour, 15 minutes away) and Tampa International (1 hour 45 minutes away).
1 Stats America Big Radius Tool
We offer a lower cost of doing business compared to larger metropolitan areas without sacrificing access, growth or skill.2

2.3% Annual Growth
Lake County is outpacing the regional, state and national growth averages.
Ocala MSA 1.2% | Orlando MSA 2.1%
Florida 1.4% | USA 0.6%

80.4% Prime-age Participate Rate
Civilian population (25-54)
Ocala MSA 74.3% | Orlando MSA 83.5%
Florida 81.5% | USA 82.46%

89.7% Educational Attainment
High school diploma or higher
Ocala MSA 87.9% | Orlando MSA 91%
Florida 89.5% | USA 89.5%
2 Source: JobsEQ®; Data as of 2022Q4
About us
How LEAD Can Help Your Business Thrive.
LEAD is dedicated to the advancement of economic development efforts to support the people, businesses and communities of Lake County.
The Lake Economic Area Development (LEAD) Partnership is a public/private organization created and designed to lead efforts in further growing, diversifying and uniting the Lake County regional economy.
The organization works closely with government, private businesses, chambers of commerce, educational and workforce organizations and other related stakeholders to collectively drive economic growth in Lake County.
Business Creation
LEAD aspires to create businesses! We provide prospective individuals or partnerships with the resources and network to become entrepreneurs. Increasing investment in the region's innovation clusters and emerging industries encourage economic diversification.
Business Retention & Expansion
LEAD helps existing businesses with issues relating to permitting, workforce assistance, financing, post-disaster continuity and other growth opportunities and challenges. LEAD is your liaison between your business with other businesses, government leaders and local stakeholders.
Business Attraction
LEAD facilitates the processes for businesses to move into Lake County by assisting with numerous measures such as attaining capital investors or local funding, location and economic data analysis, bridging relations to help meet governmental requirements and potentially providing custom trained workforce prior to arrival.
Industry Advantages
How Lake County's Targeted Industries Flourish in the Region.
Lake County is committed to fostering a business environment that is welcoming to new and existing businesses alike. This pro-business attitude has enabled Lake County to be the home to thousands of businesses across a wide range of industries from local, one-man shops to multi-national corporations.

122,000+
Employed in the County

36.7%
Increase in Industry Establishments over the past 10 years

122,000+
Employed in the County
Logistics & Distribution
6.0% 5-Year Historic Growth Rate
(compared to 2.1% in the U.S.)
Lake County's strategic location in Central Florida provides tremendous growth opportunities for logistics and distribution companies. The region is well-connected with a network of highways, including Interstate 75 and Florida's Turnpike. Additionally, the county is close to major airports such as Orlando International and Tampa International, as well as ports such as Port Canaveral and Port Tampa Bay.
Manufacturing
5.5% 5-Year Historic Growth Rate
(compared to 0.6% in the U.S.)
Lake County has a skilled workforce that supports the manufacturing industry. Educational institutions, such as Lake-Sumter State College, offer programs and certifications in fields relevant to manufacturing, providing a reliable pipeline of trained workers. Workforce development initiatives and partnerships with local businesses help ensure the availability of skilled labor for manufacturing operations.
Agribusiness/Agri-tech
5.1% 5-Year Historic Growth Rate
(compared to -0.2% in the U.S.)
Lake County has created an environment where the agriculture industry can thrive. The combination of a favorable climate, diverse agriculture, speedy access to markets and available agriculture support services such as research centers and technical training programs have contributed to the ongoing success of the industry.
Lake County is Dedicated to Workforce Development & Bolstering the Talent Pipeline.
Critical to the success of any business is the quality of its workforce. LEAD is committed to ensuring that Lake County businesses have access to a well-trained and highly skilled workforce.
Through partnerships with local training facilities, educational institutions and regional CareerSource Central Florida representatives, Lake County has created a myriad of workforce training and placement programs that can be utilized by all of Lake County's businesses.
| Lake County's Top Industries | Employment | Average Annual Wage |
| --- | --- | --- |
| Health Care and Social Assistance | 19,848 | $55,910 |
| Retail Trade | 18,972 | $38,513 |
| Construction | 13,331 | $57,145 |
| Accommodation and Food Services | 12,442 | $24,477 |
| Administrative and Support and Waste Management and Remediation Services | 8,394 | $41,693 |
| Educational Services | 7,905 | $48,235 |
| Other Services (except Public Administration) | 6,457 | $32,328 |
| Public Administration | 5,430 | $55,113 |
| Professional, Scientific, and Technical Services | 5,306 | $70,126 |
| Transportation and Warehousing | 4,871 | $49,386 |
Source: JobsEQ®; Data as of 2022Q4
Board of Directors
Our Leadership
Abel Biri
AdventHealth
Al Minner
City of Leesburg
Ben Pauluhn
Optimus Energy
Brad Weber
Citizens First Bank
Chris Creech
RCM Utilities/City of Umatilla
Christian Miller
CM Dredging
Dan Tatro
Grizzard Commercial Real Estate
Dan Robuck
RoMac Building Supply
Doug Childers
Lassiter Ware Insurance
Doug Shields
Lake County Commissioner
Duane Booth
Halff
Joe Ciceri
Electrical Works
Joel Gunter
Duke Energy
Kathy Judkins
SECO Energy
Lance Sewell
Orlando Health/South Lake Hospital
Mary Ellen Stern
Lake County Government
Mike Duffield
Greenway Electrical Services
Phil Braun
UF Health
Spencer Schar
Bella Collina
Tyler Brandeburg
Brown & Brown/Lake County Schools
Investors
How can I be engaged and involved?
LEAD is funded through investments. Our public and private investors are making an investment in the future of our communities and business. Over time, they expect to see a return through increased employment and business establishments leading to greater wealth and stronger communities.
Learn about how you can become an investor today.